The Story Behind a Winning IR Website, Perfect for the Age of Digital Healthcare | CloudMD Case Study
CloudMD is a digital healthcare platform with an array of offerings for patients, healthcare practitioners, and enterprise operations. The company is constantly working to streamline the healthcare process, unifying the three categories into a single easy-to-use ecosystem.
When the company approached Blender with a need for a new IR website, we were immediately intrigued. CloudMD's old platform really only conveyed one aspect of their complete, multi-part offering, employing an outdated model that was aimed more directly at individual patients.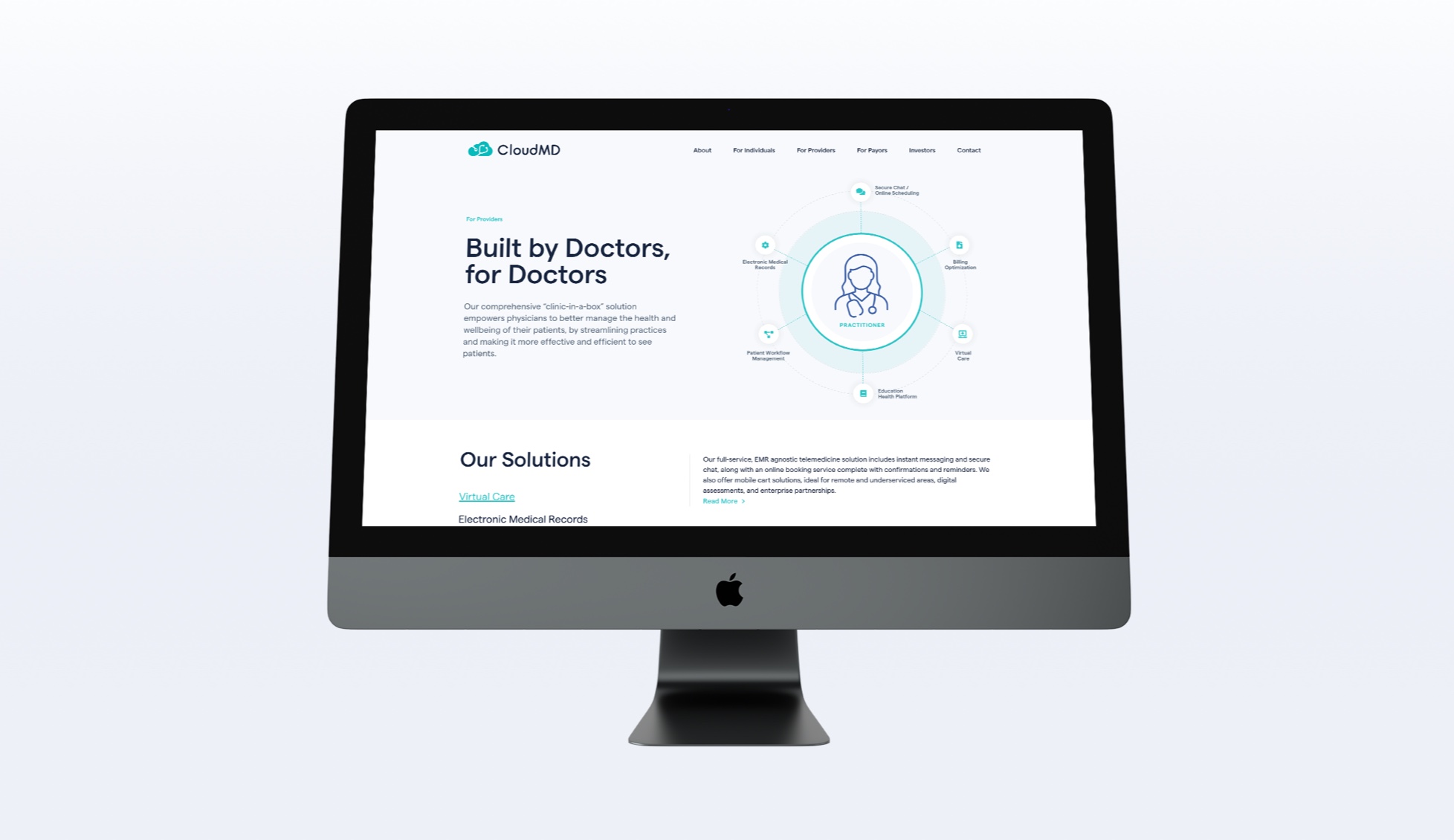 The challenge
The team at CloudMD hoped to totally overhaul their site, reworking the content and structure to focus on their new, up-to-date model with three distinct verticals: patients, providers, and enterprise solutions. They also wished to combine their corporate and investor relations sites, and to hone their IR site to better speak to their investors and prospects.
It can be a challenge to concisely convey the complex offerings of a company like CloudMD, but it's the kind of challenge we at Blender love to take on. We knew that the company needed a truly standout IR website in order to compete in the rapidly growing digital healthcare space.

The solution
To accomplish this, we communicated closely with the team at CloudMD. It was essential that we understood the ins and outs of the company. The first step was to establish a new site architecture, including an in-depth IA process with extensive client discovery, wireframing, and several rounds of revisions. 
Ultimately, we spent over half of the project in these initial steps, ensuring we had a strong grounding as we moved into the visual design phase. We then advised the team on the best way to present key elements of their site, where to improve their messaging, and what could stand to be eliminated. Again, this led to a fair amount of iterating, with our design team addressing every one of CloudMD's concerns until arriving at a visual direction everyone felt truly enthusiastic about. Then we rolled that out across all of the site's page designs.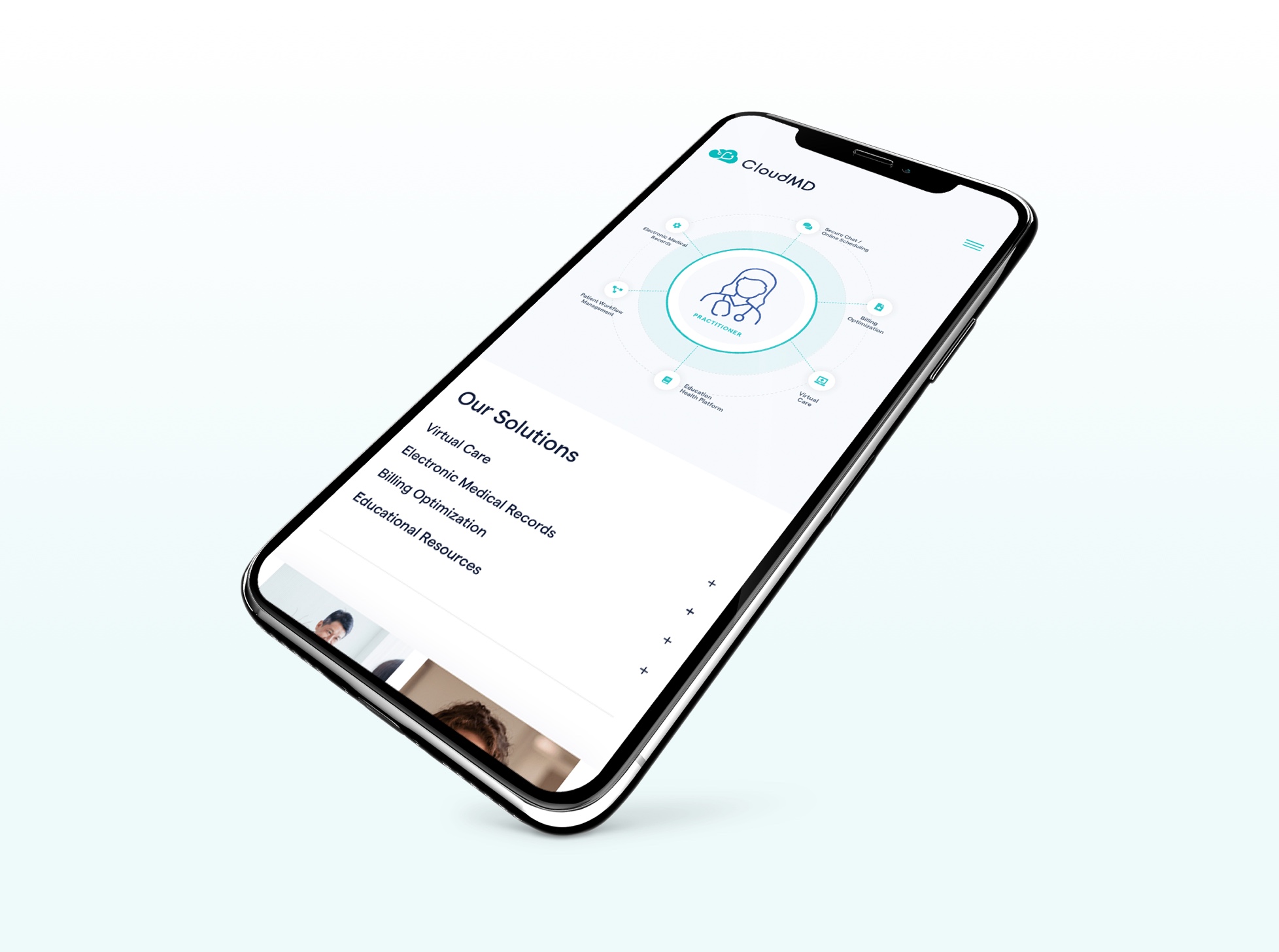 The CloudMD team was deeply involved in the process from the start and communication was open throughout, allowing us to tailor the site to their precise needs.
We are deeply proud of the end result. CloudMD ended up with a modern look and feel for their 2022 audience, with a strong user experience that speaks to each of their three key verticals. 
The result
We believe the results speak for themselves. CloudMD's IR website is now easy to navigate, visually distinct and inviting, with a clean aesthetic and clear site architecture. Both our team and theirs were thrilled with the finished product, and the cohesive experience it created for each of their unique audiences. 
"Working with Blender on our custom CloudMD website project was easy and efficient," CloudMD's VP of investor relations, Julia Becker, says of the new site. "The team is dedicated to providing best in class, unique design and collaborates and communicates very well. Our project team worked very closely with the Blender team on this multi-phase project, and their expertise and professionalism made what often can be a complex and overwhelming process easy to navigate, inspiring, and an exciting process from start to finish."
"I have used Blender throughout my career, and one of their key differentiators is you have a dedicated team at your fingertips 24/7, when you need it and the turnaround time is always very fast, which is very important in my business. I am very impressed with the final outcome and feel very proud of our new website."
Blender prides itself on building the best of the best investor-focused websites for public companies. We strive to get it right every time, working closely with all our clients to realize their specific vision. But of course, there are always a few sites every year that truly encapsulate what we are about, that we believe stand out in a crowded field.
CloudMD is just one of the many award-winning, unique platforms we've created for public companies over the years, but we felt it was too good not to share.
If you'd like to learn how the team at Blender can overhaul your own investor-centric site, contact us to start a project today!